The Hruska Clinic Integrator
Dave Drummer Discusses Protonics Return
Posted on 03/10/2015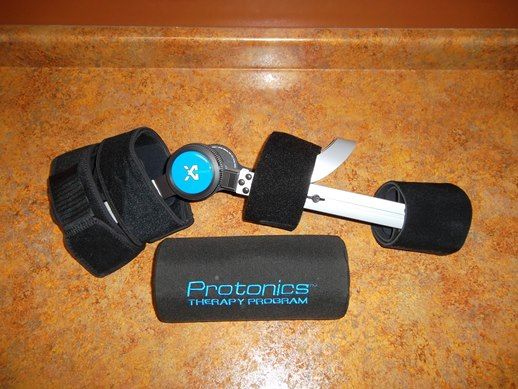 Okay, not who, but what. Many of you may recognize this but I am sure many more of you do
not. This is a Protonics system which was invented by Ron Hruska, founder of the Hruska
Clinic and the Postural Restoration Institute right here in Lincoln, NE. At first glance people
think this is a knee brace (the first common error surrounding this device), but that couldn't be
further from the truth. This is a NEUROMUSCULAR RETRAINING TOOL designed to engage
the LEFT hamstrings (the second common error of this device is putting it on the right leg for
the right hamstrings).To understand why this is a neuromuscular retraining tool to engage or
activate the left hamstrings, you first need to understand the most basic concept of our
sophisticated brand of physical therapy: Postural Restoration. (Note: If you're not familiar with
the word neuromuscular, think communication between your brain and your muscles).
The fact is, as human beings we are asymmetrical creatures with predictable patterns of
imbalance. Just one of those predictable imbalances is the tendency for the left hamstrings to
be less active in normal daily activities such as walking or managing stairs. There are many
roles the hamstrings play in daily life, but among them due to their attachment sites on the
pelvis and legs is maintaining stability of the lumbopelvic region (i.e. low back and pelvis).
When you're physically unstable, whether at your pelvis, spine, or neck for example, you'll
probably have pain or functional problems in your life.
For some people with improper timing or use of their left hamstrings, they may be able to
purposefully engage the hamstrings to perform a prescribed exercise without developing the
neurological changes necessary to actually help the hamstrings function for normal, real life
activities. If this neurological change doesn't take place it becomes difficult to overcome the
pain or functional limitations which are associated with lumbopelvic instability. Hence the
development of the Protonics system. Not only does this system provide resistance when
performing a prescribed set of exercises, but if you follow the plan of wearing this system for
an hour or two after your exercises, your left hamstrings now get a signal via resistance from
the machine to engage at the appropriate time, for example if you're walking. This is when
neurological, functional changes occur. Not everyone needs a Protonics system to overcome
pain or functional problems associated with poor lumbopelvic control, but for many this system
may be exactly what is needed to achieve a neurological change.